The colour temperature used will affect not only the apparent of the artwork or space, but also the atmosphere. 
We therefore propose an accurate representation of daylight from the candle to the blue sky. With a quality color perception that guarantees a superior visual experience, so that the artwork on display looks as original as possible when illuminated.
Our luminaires do not generate infrared or UV light and are ideal for the protection and conservation of precious artworks & objects.
Our accent lighting offers an adjustment of the light beam from the tightest angle to the widest. The interplay of light and shadow thus makes it possible to create striking effects that attract everyone's attention, whether it is a small stationary object, a sculpture or a large space.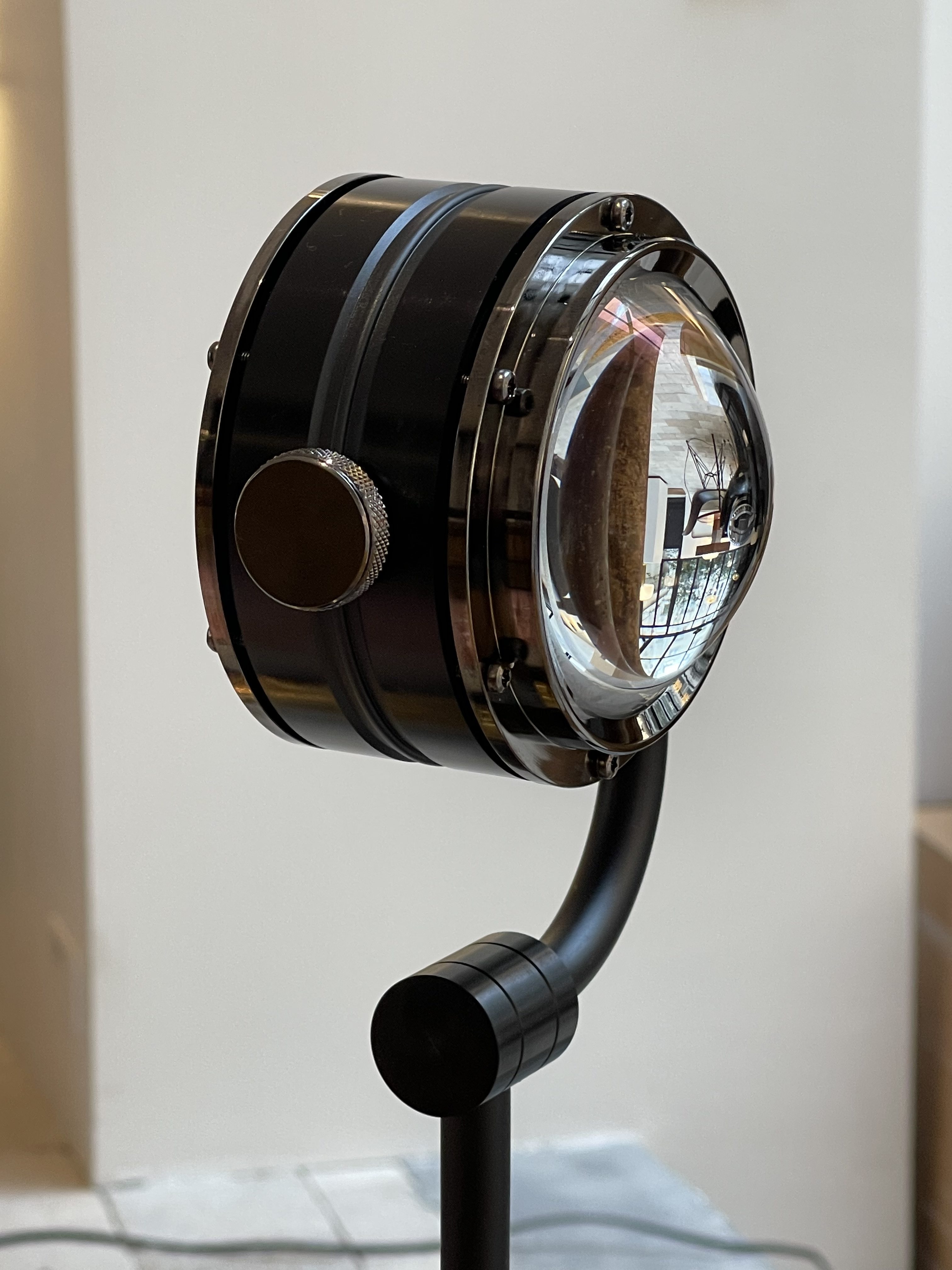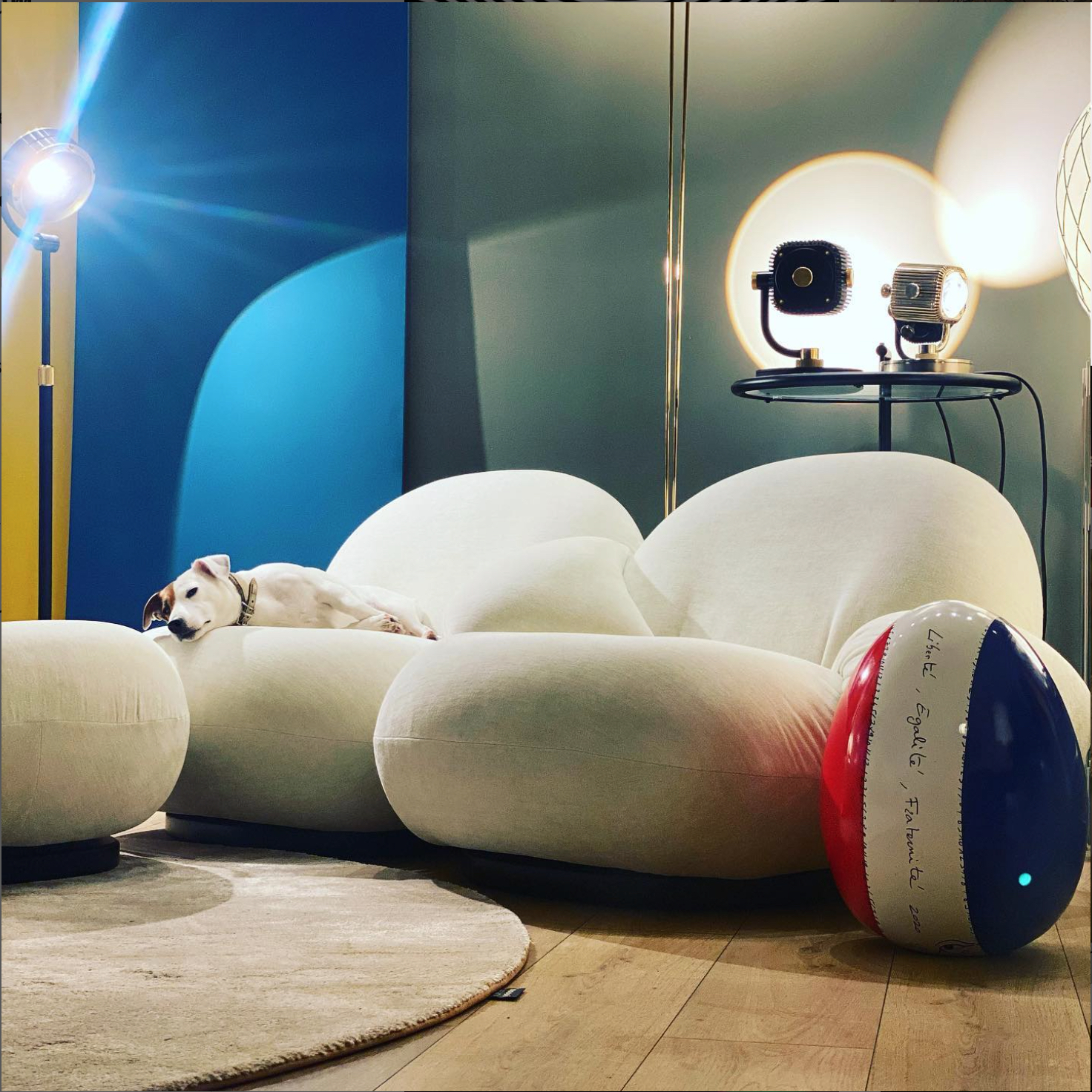 The sun, or rather the light has an important influence on our balance, well-being and mood. It encourages creativity and promotes the internal clock.
We speak of flickering of the light source from a frequency lower than 80Hz. A person can see this flicker with the naked eye, it is often also related to headaches, fatigue and concentration problems. Our Luminaires operate at 3000Hz over the entire dimming range and therefore offer optimum concentration.
Intuitive Bluetooth MESH control with your phone from our app available on the AppStore, Android or your home automation system. Our app enables the user to set the dimming, CCT Correlated Color Temperature, Hue and Saturation.
The entire manufacturing process is carried out at our workshop south of Paris. 
The realization of a luminaire can require up to 42 hours of manual work. We control the creation throughout the manufacture of the model, to finishes
We use the finest materials such as platinum, titanium, stainless steel, aluminum, copper and brass. Our machined and polished glass optics with multi-layer anti-reflection treatments are coupled with a complex system of black chambers, reflectors and diffusers
Machining provides multiple possibilities to sculpt the material with great precision
Each creation is meticulously adjusted and numbered
Finishes: polishing, satin and peening
Aeronautical treatment with very high hardness: SAO – Sulfuric Anodization Oxidation, Gold24K, Silver, Nickel, Palladium, Ruthenium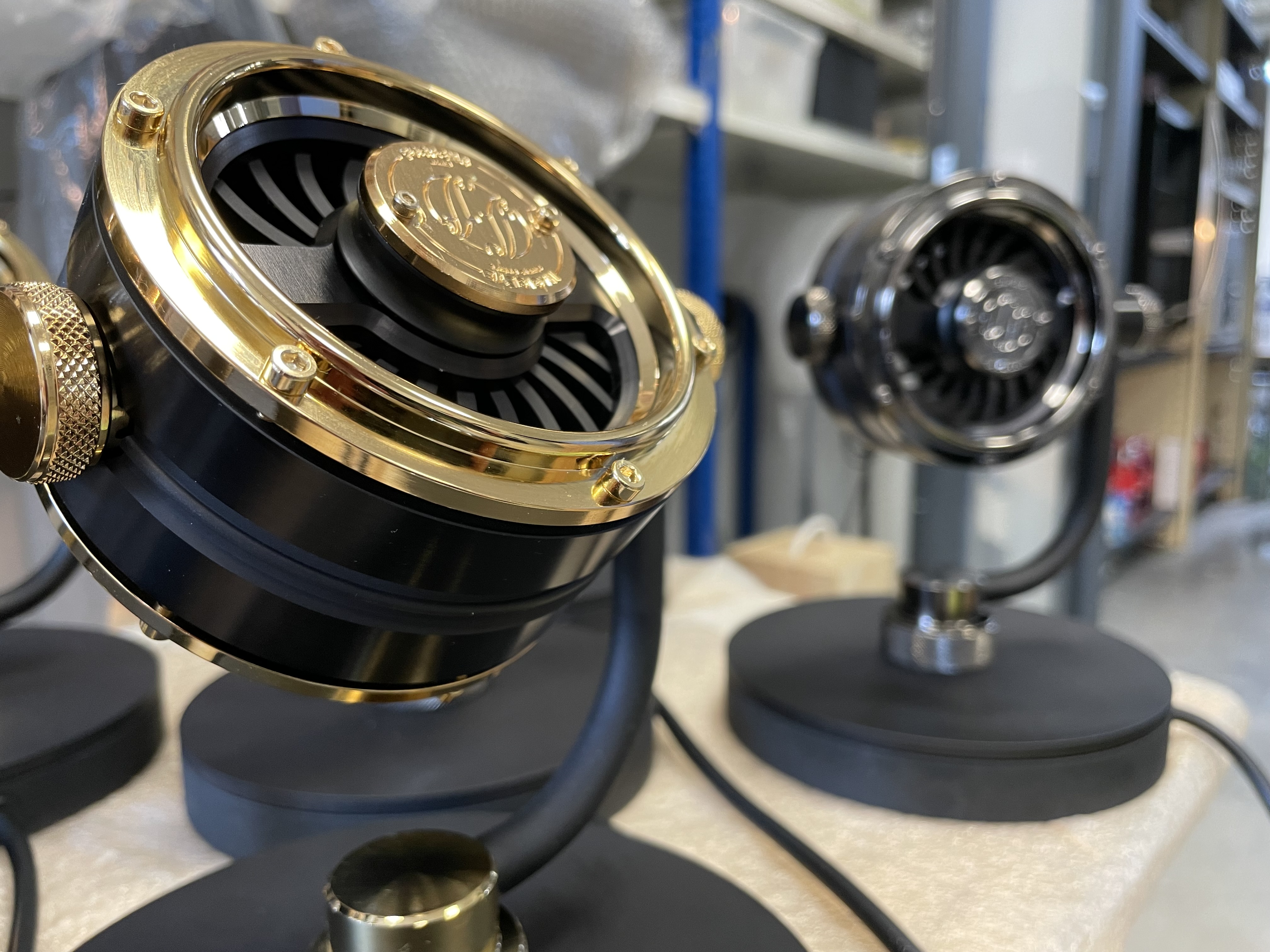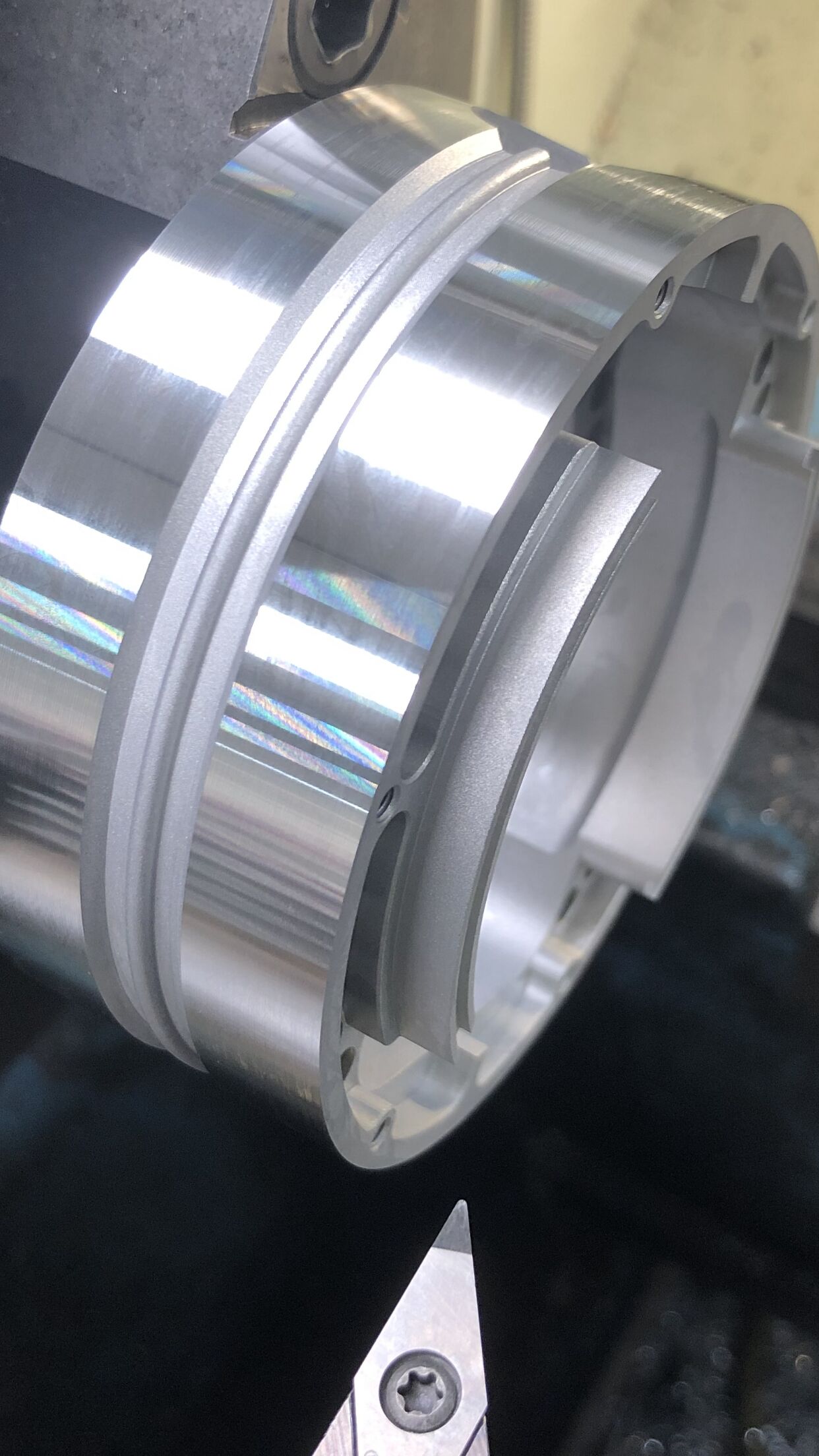 We don't sell diamonds yet, but,
on the body of the MagicEye which is entirely machined in the raw material with a very high precision, we have a double finish:
mirror polish/vinyl effect done with a tool equipped with a diamond tip.
The interior, which is not visible, is a very ingenious system for thermal management. The LED has a much better efficiency than other light sources, but does not convert all the energy into light.
I'm delighted to announce that the candle has found its place in the Fosfens universe.
We have succeeded in taming its flame, which until now had been untameable.
The result is innovative, original and authentic.
A real invitation to well-being.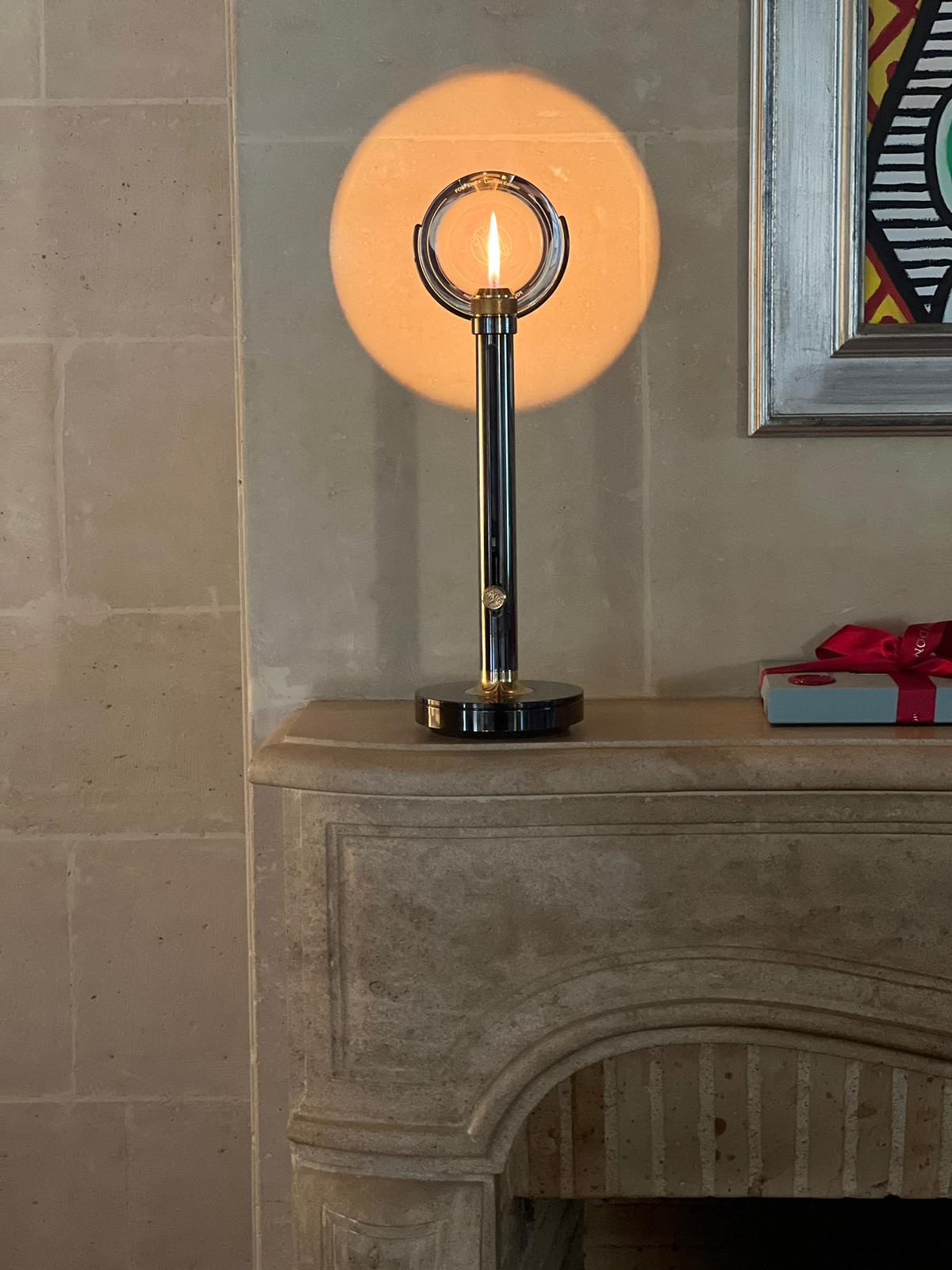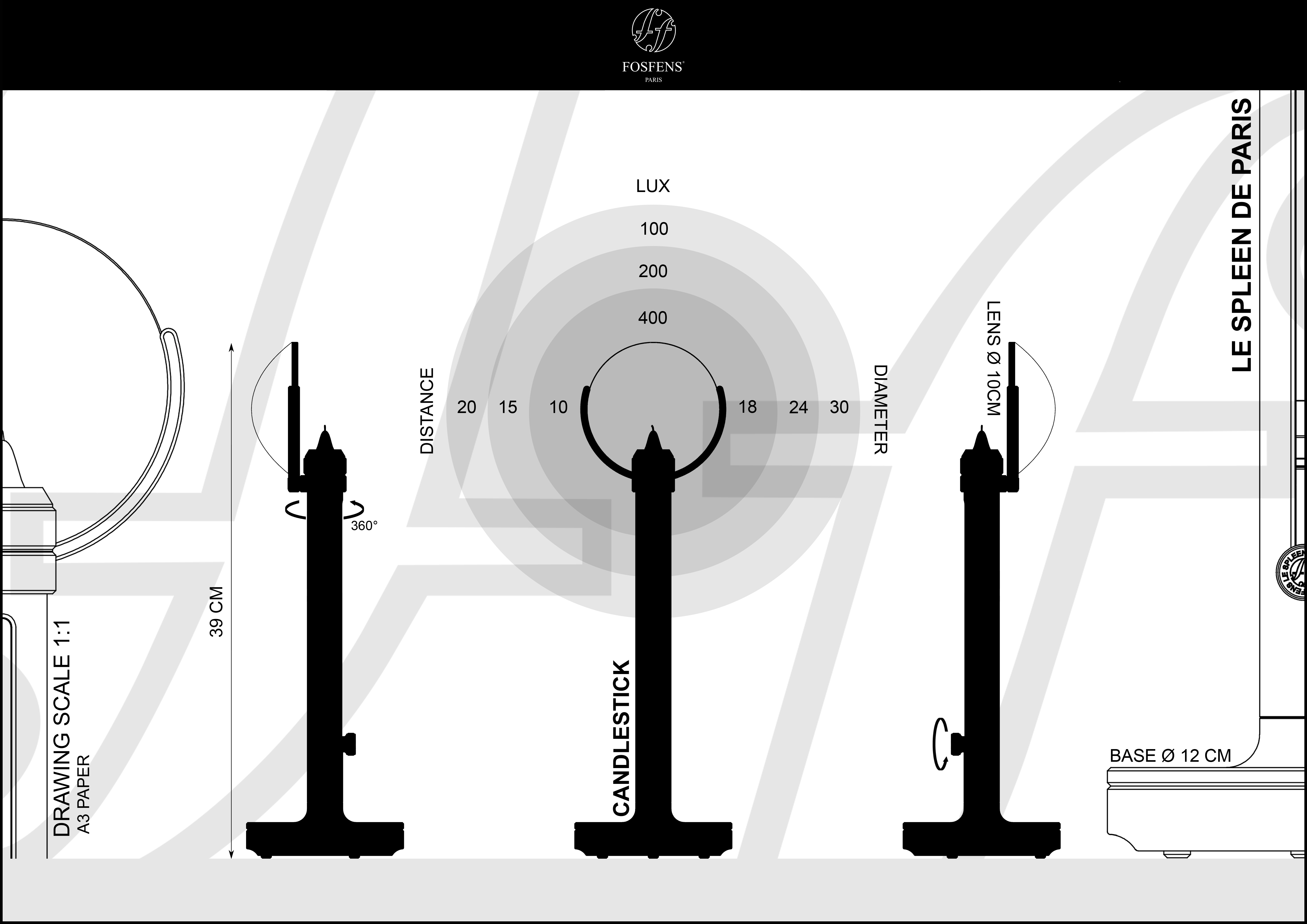 Candlestick – 1850°K – Angle 60° – H 390mm x Ø118 – Weight 3kg
Recommanded candle : TRUDON, Bougie de la Madeleine Ø22mm H 200mm – Milled base
Burn time : 7 hours
Number of candles in the case: One box of 6 and one in the product
True Flamme Quality – Royal manufacture House of Trudon, since 1643 – Genuine and responsible beeswax – Made in Normandy, France
Manufacturing Process with CNC 5 axes – Nobles Materials : Platinium – Titanium – Inox – Aluminium – Copper – Brass / Handcraft Finishes : Brushed- Polished – Blasted / Aeronautic Treatments : Gold – Silver – Palladium- Ruthenium – Nickel
Custom Aspheric Glass Lens Ø101mm – Borosilicate Substrate – Plano-Convex – Surface quality 10-5 based on MIL-PRF-13830B – Bevel (Face width @45 degrees) < 0.25mm – Irregularity (P-V) @632.8nm λ/10 – Index of Refraction nd1.517 – Transmission range 0.4μm – Multi-Layers Coating – Ravg ≤0.4% @425– 675nm – Typical Energy Density Limit 5 J/cm2 @ 532nm, 10ns
RoHS Compliant
1500LM 16W 2700°K (Options : 2200°K – 3000°K – 3500°K – 4000°K) – 120-230-277 Volts AC 50/60Hz – Angle : 75° – Bluetooth MESH (option DALI) – Free software on the AppStore – Flicker No effect per IEEE1789 – Superior Deep dimming ≥ 3,000 Hz
True Quality of Light – Corrected Cold Phosphor Technology – Uniform Light – IES TM30 Color Metrics: GAI88 109 – CRI98 – R9 95 – Rf 96 – Rg103 – Initial Color Consistency ≤ 1×2 Macadam ellipses (1×2 SDCM) – Color Maintenance Consistency maintained < 0.003 Δ u'v' @ 50,000 hours – Light Engine Warranty 7 years or 50K hours on mortality B0, color & lumen maintenance
Manufacturing Process with CNC 5 axis – Nobles Materials : Platinum – Titanium – Stainless Steel – Aluminum – Copper – Brass / Handcraft Finishes : Brushed – Polished – Blasted / Aeronautic Treatments : SAO – Gold – Silver – Palladium – Ruthenium – Nickel
Custom Aspheric Glass Lens – Borosilicate Substrate / Plano-Convex – Surface quality 10-5 based on MIL-PRF-13830B – Bevel (Face width @45 degrees) < 0.25mm / Irregularity (P-V) @ 632.8nm λ/10 / Index of Refraction nd1.517 – Transmission range 0.4μm / Multi-Layers Coating – Ravg ≤0.4% @425-675nm / Typical Energy Density Limit 5 J/cm2 @ 532nm, 10ns
Diagnostic sensors and auto correction – Electrical & Temperature Protection – Data Retrieval Possibilities, instantaneous and cumulative – Secure – AES-128 Encryption – Powerful ARM Cortex M0 32-bit 48Mhz processor
RoHS Compliant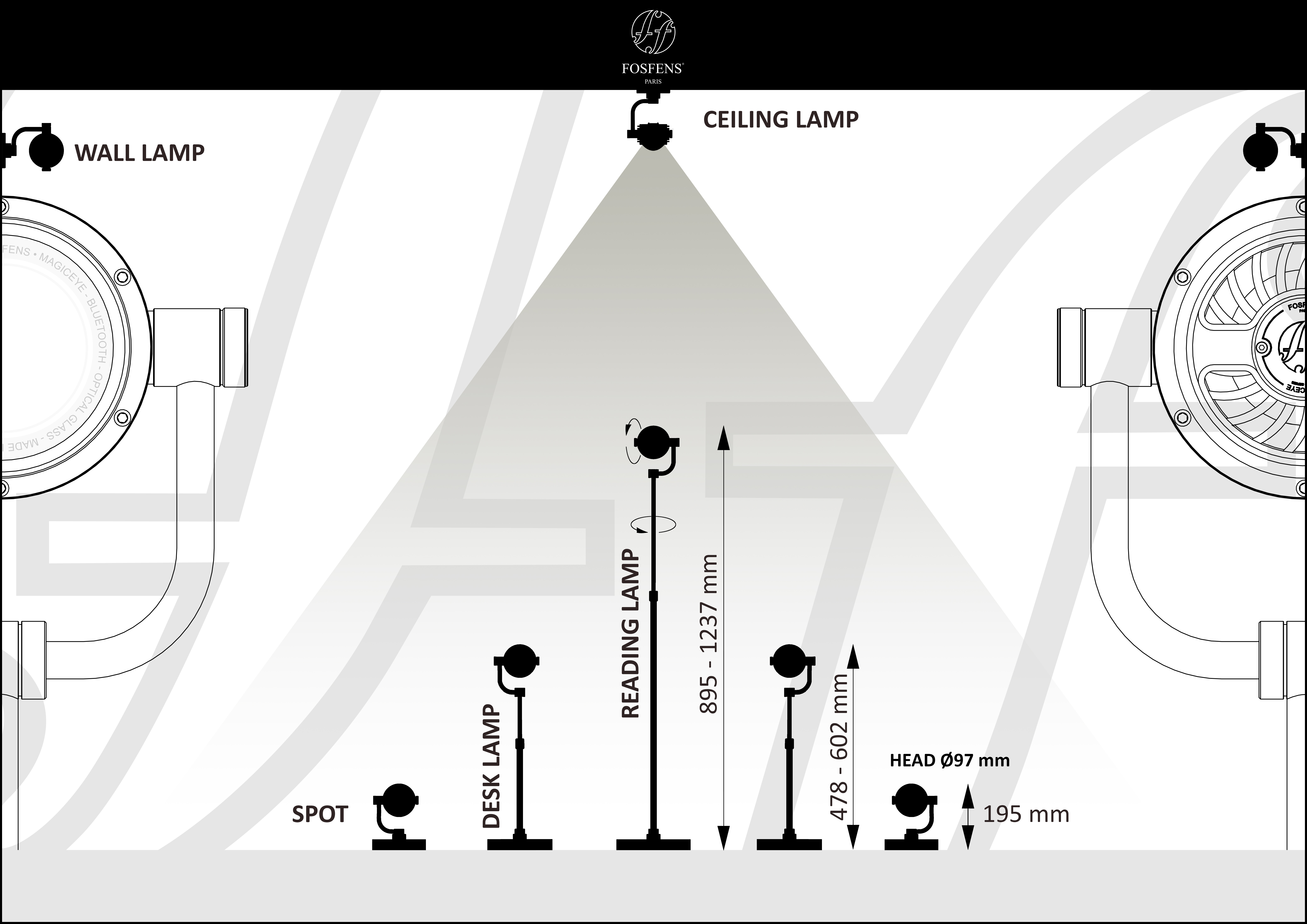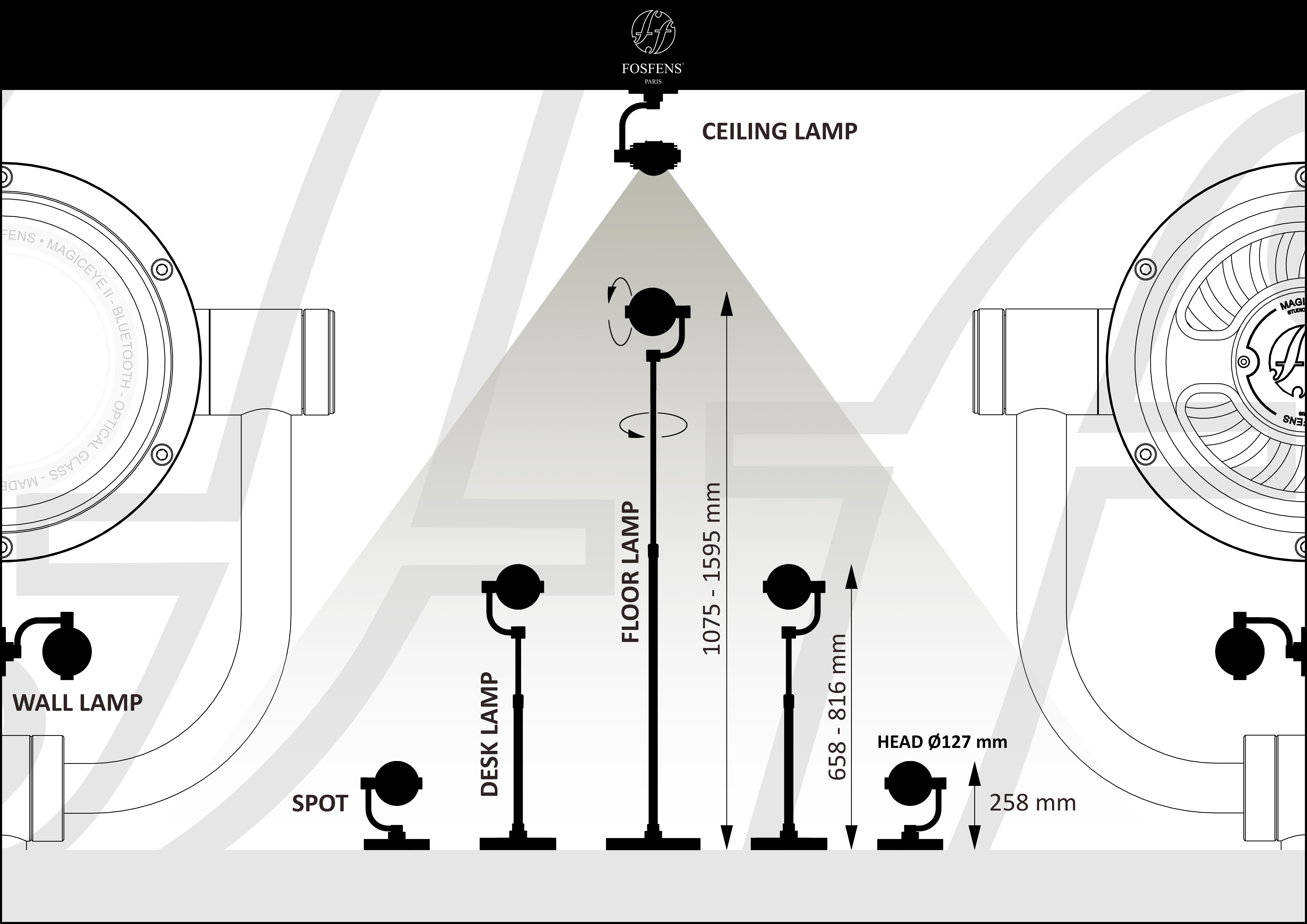 2000LM 22W 2700°K (Options : 2200°K – 3000°K – 3500°K – 4000°K) 120-230-277 Volts AC 50/60Hz – Angle : 75° – Bluetooth MESH (options: DALI) – Free software on the AppStore – Flicker No effect per IEEE1789 – Superior Deep dimming ≥ 3,000 Hz
True Quality of Light – Corrected Cold Phosphor Technology – Uniform Light – IES TM30 Color Metrics: GAI88 109 – CRI98 – R9 95 – Rf 96 – Rg103 – Initial Color Consistency ≤ 1×2 Macadam ellipses (1×2 SDCM) Color Maintenance Consistency maintained < 0.003 Δ u'v' @ 50,000 hours – Light Engine Warranty 7 years or 50K hours on mortality B0, color & lumen maintenance
Manufacturing Process with CNC 5 axis / Nobles Materials : Platinum – Titanium – Stainless Steel – Aluminum – Copper – Brass / Handcraft Finishes : Brushed – Polished – Blasted / Aeronautic Treatments : SAO – Gold – Silver – Palladium – Ruthenium – Nickel
Custom Aspheric Glass Lens – Borosilicate Substrate – Plano-Convex – Surface quality 10-5 based on MIL-PRF-13830B – Bevel (Face width @45 degrees) < 0.25mm – Irregularity (P-V) @ 632.8nm λ/10 – Index of Refraction nd1.517 – Transmission range 0.4μm – Multi-Layers Coating – Ravg ≤0.4% @425-675nm – Typical Energy Density Limit 5 J/cm2 @ 532nm, 10ns
Diagnostic sensors and auto correction – Electrical & Temperature Protection – Data Retrieval Possibilities, instantaneous and cumulative – Secure – AES-128 Encryption – Powerful ARM Cortex M0 32-bit 48Mhz processor
RoHS Compliant
3000LM 35W 2700°K (Options : 2200°K – 3000°K – 3500°K – 4000°K) / 120-230-277 Volts AC 50/60Hz – Angle: 150° – Bluetooth MESH (option: DALI) – Free software on the AppStore – Flicker No effect per IEEE1789 – Superior Deep dimming ≥ 3,000 Hz
True Quality of Light – Corrected Cold Phosphor Technology – Uniform Light – IES TM30 Color Metrics: GAI88 109 – CRI98 – R9 95 – Rf 96 – Rg103 – Initial Color Consistency ≤ 1×2 Macadam ellipses (1×2 SDCM) – Color Maintenance Consistency maintained < 0.003 Δ u'v' @ 50,000 hours – Light Engine Warranty 7 years or 50K hours on mortality B0, color & lumen maintenance
Manufacturing Process with CNC 5 axis / Nobles Materials : Platinum – Titanium – Stainless Steel – Aluminum – Copper – Brass / Handcraft Finishes : Brushed – Polished – Blasted / Aeronautic Treatments : SAO – Gold – Silver – Palladium – Ruthenium – Nickel 
Custom Aspheric Glass Lens – Borosilicate Substrate / Plano-Convex – Surface quality 10-5 based on MIL-PRF-13830B / Bevel (Face width @45 degrees) < 0.25mm / Irregularity (P-V) @ 632.8nm λ/10 – Index of Refraction nd1.517 – Transmission range 0.4μm – Multi-Layers Coating – Ravg ≤0.4% @425-675nm / Typical Energy Density Limit 5 J/cm2 @ 532nm, 10ns
Diagnostic sensors and auto correction – Electrical & Temperature Protection – Data Retrieval Possibilities, instantaneous and cumulative / Secure – AES-128 Encryption – Powerful ARM Cortex M0 32-bit 48Mhz processor
RoHS Compliant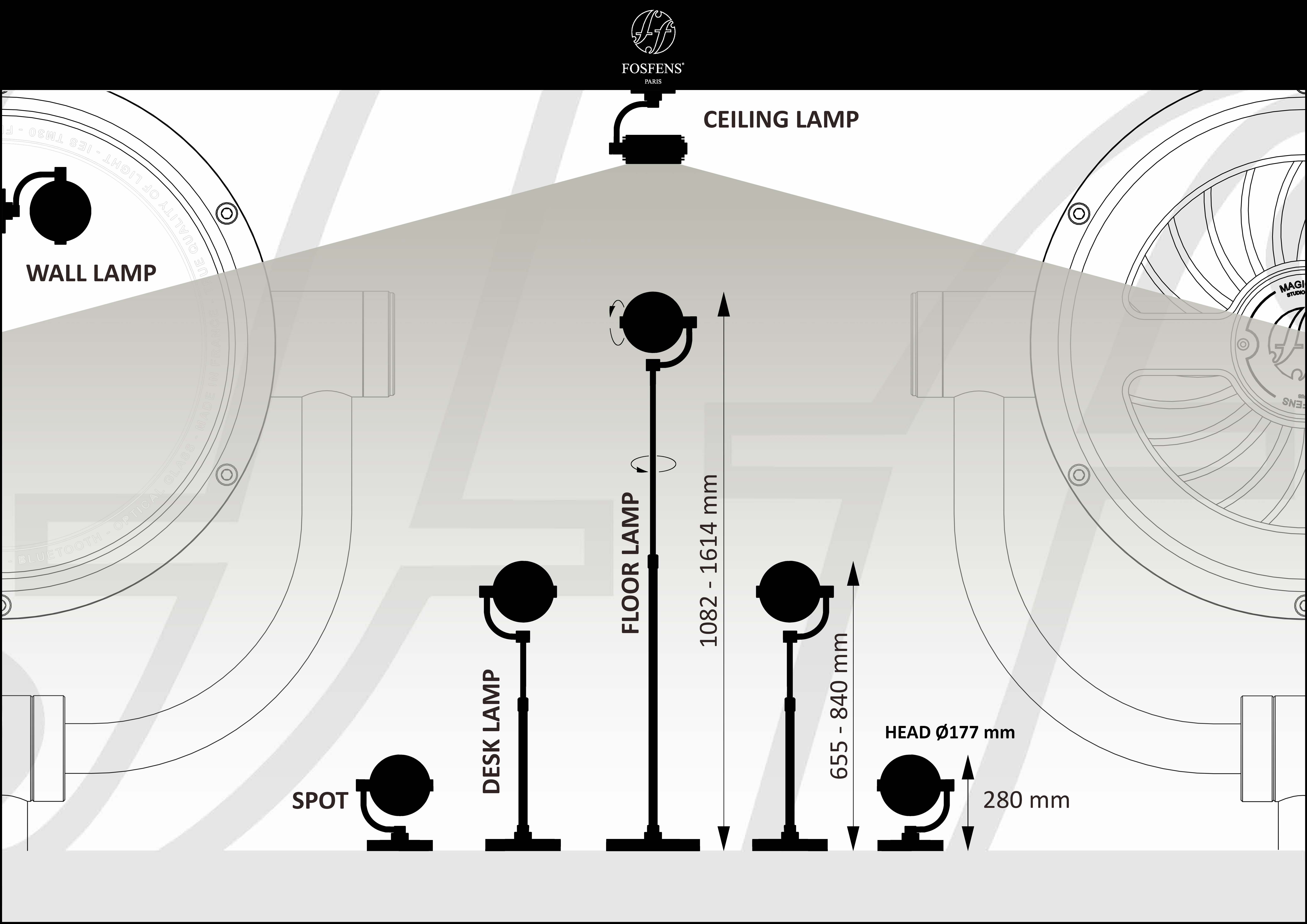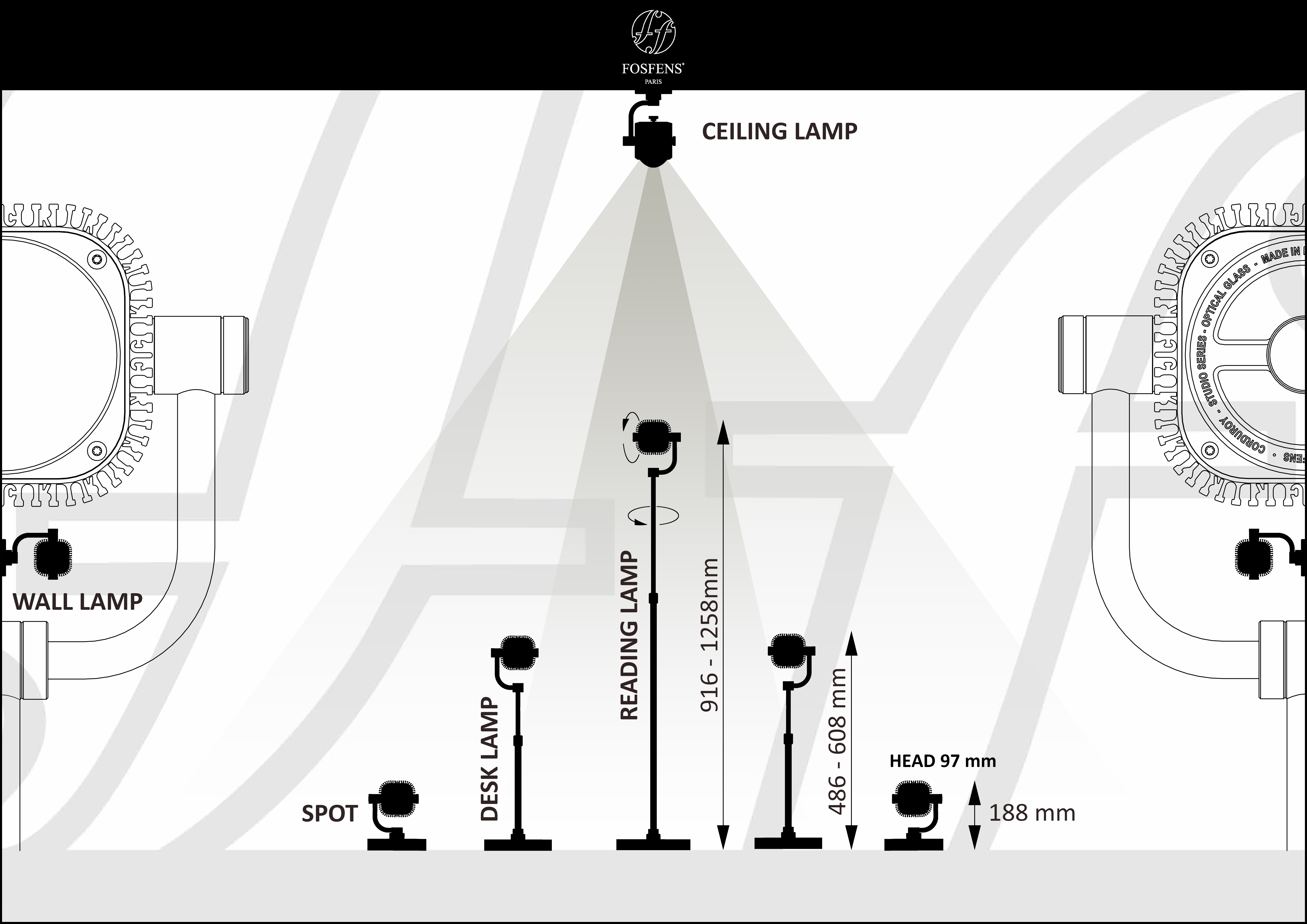 1770LM 19.5W 2700°K (Options : 2200°K – 3000°K – 3500°K – 4000°K) 120-230-277 Volts AC 50/60Hz – Precise adjustment of the light beam: Zoom X3 between 25° and 75° (Option Zoom X6 : 12.5° to 75°) – Bluetooth MESH (option: DALI) – Free software on the AppStore – Flicker No effect per IEEE1789 – Superior Deep dimming ≥ 3,000 Hz
True Quality of Light – Corrected Cold Phosphor Technology – Uniform Light – IES TM30 Color Metrics: GAI88 109 – CRI98 – R9 95 – Rf 96 – Rg103 / Initial Color Consistency ≤ 1×2 Macadam ellipses (1×2 SDCM) – Color Maintenance Consistency maintained < 0.003 Δ u'v' @ 50,000 hours – Light Engine Warranty 7 years or 50K hours on mortality B0, color & lumen maintenance
Manufacturing Process with CNC 5 axis / Nobles Materials : Platinum – Titanium – Stainless Steel – Aluminum – Copper – Brass / Handcraft Finishes : Brushed – Polished – Blasted / Aeronautic Treatments : SAO – Gold – Silver – Palladium – Ruthenium – Nickel
Custom Aspheric Glass Lens – Borosilicate Substrate / Plano-Convex – Surface quality 10-5 based on MIL-PRF-13830B / Bevel (Face width @45 degrees) < 0.25mm – Irregularity (P-V) @ 632.8nm λ/10 – Index of Refraction nd1.517 – Transmission range 0.4μm – Multi-Layers Coating – Ravg ≤0.4% @425-675nm – Typical Energy Density Limit 5 J/cm2 @ 532nm, 10ns
Diagnostic sensors and auto correction – Electrical & Temperature Protection – Data Retrieval Possibilities, instantaneous and cumulative Secure – AES-128 Encryption – Powerful ARM Cortex M0 32-bit 48Mhz processor
RoHS Compliant
2250LM 25.3W 2700°K (Options : 2200°K – 3000°K – 3500°K – 4000°K) 120-230-277 Volts AC 50/60Hz – Precise adjustment of the light beam: Zoom X5 between 15° and 75° (Option Zoom X10 : 7.5° to 75°) – Bluetooth MESH (option: DALI) – Free software on the AppStore – Flicker No effect per IEEE1789 – Superior Deep dimming ≥ 3,000 Hz
True Quality of Light – Corrected Cold Phosphor Technology – Uniform Light – IES TM30 Color Metrics: GAI88 109 – CRI98 – R9 95 – Rf 96 – Rg103 / Initial Color Consistency ≤ 1×2 Macadam ellipses (1×2 SDCM) – Color Maintenance Consistency maintained < 0.003 Δ u'v' @ 50,000 hours – Light Engine Warranty 7 years or 50K hours on mortality B0, color & lumen maintenance
Manufacturing Process with CNC 5 axis / Nobles Materials : Platinum – Titanium – Stainless Steel – Aluminum – Copper – Brass / Handcraft Finishes : Brushed – Polished – Blasted / Aeronautic Treatments : SAO – Gold – Silver – Palladium – Ruthenium – Nickel
Custom Aspheric Glass Lens – Borosilicate Substrate / Plano-Convex – Surface quality 10-5 based on MIL-PRF-13830B / Bevel (Face width @45 degrees) < 0.25mm – Irregularity (P-V) @ 632.8nm λ/10 – Index of Refraction nd1.517 – Transmission range 0.4μm – Multi-Layers Coating – Ravg ≤0.4% @425-675nm – Typical Energy Density Limit 5 J/cm2 @ 532nm, 10ns
Diagnostic sensors and auto correction – Electrical & Temperature Protection – Data Retrieval Possibilities, instantaneous and cumulative Secure – AES-128 Encryption – Powerful ARM Cortex M0 32-bit 48Mhz processor
RoHS Compliant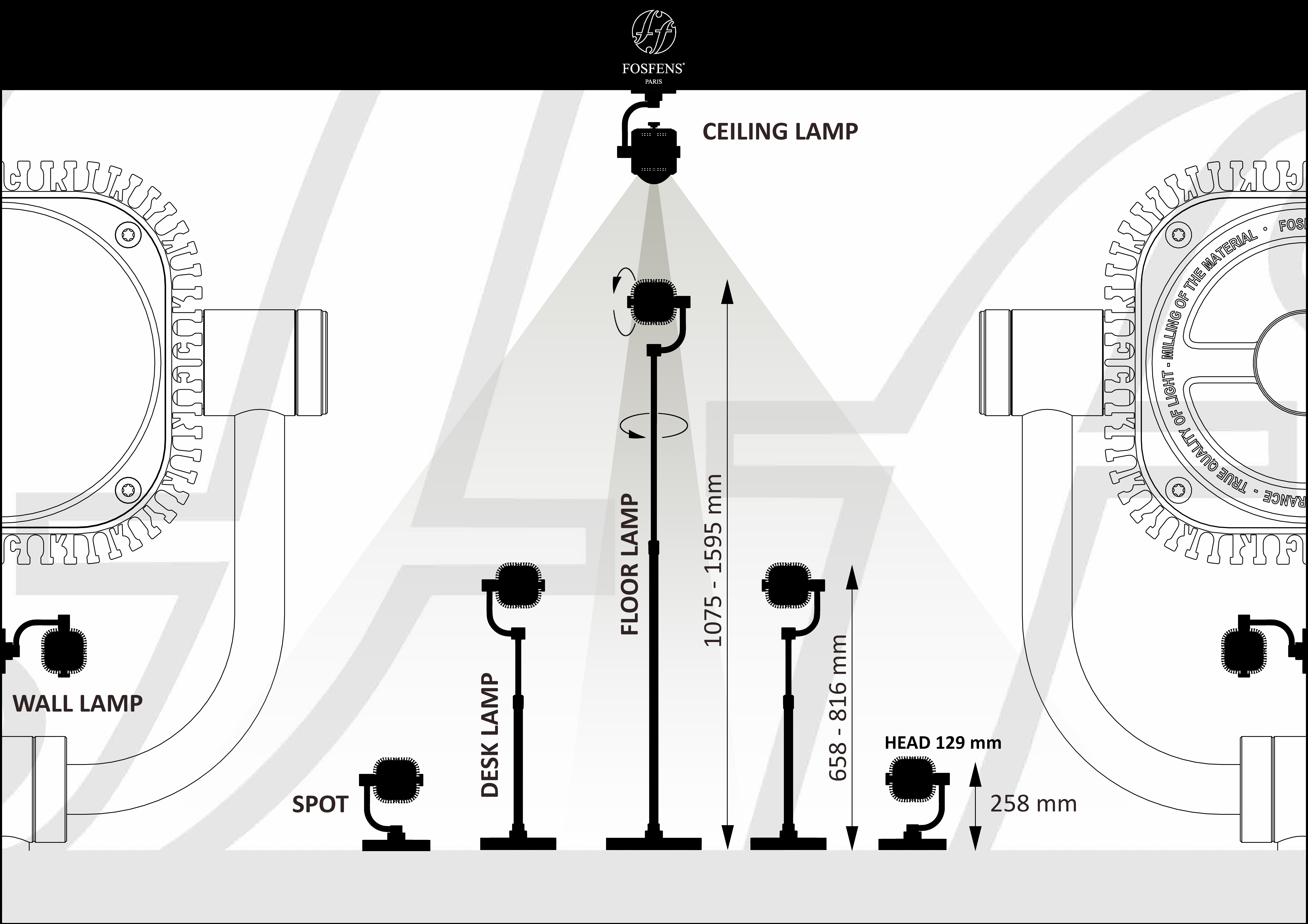 " For more information, come and meet us in our shops in Paris "